Step into our steakhouse, and you will be swept away to another world. After the warm smiles of our charming wait staff welcome you in, the sizzle of steaks on the grill and tantalizing aromas of our hand-crafted cuisine will greet your senses. 
As you sit amidst a lavish atmosphere and lively conversation, our menu options will whisk you away to the extraordinary world of Argentine cuisine with a contemporary twist.
Our Award-Winning Steaks Are Sure to Amaze
We won 'Best Steakhouse in Brazil'. Why? While we can't tell you all our secrets, we will admit that a good portion of our success lies in traditional Argentine grilling techniques. 
Using a little wood and a lot of open space, we've harnessed the traditional magic touch of a parilla to cook our steaks to perfection…and added a modern twist! Our skillful maneuvers on the movable grates of this Argentine grill allow us to cook up a steady stream of thoroughly succulent and tender steaks.
As we grill each cut evenly, fat drips down from the racks of our parilla onto the crackling woodfire below, infusing it with an unparalleled smoky flavor. Gas grills simply can't provide this— We consistently serve up sensational Argentine-style steaks so you won't ever have to settle for less.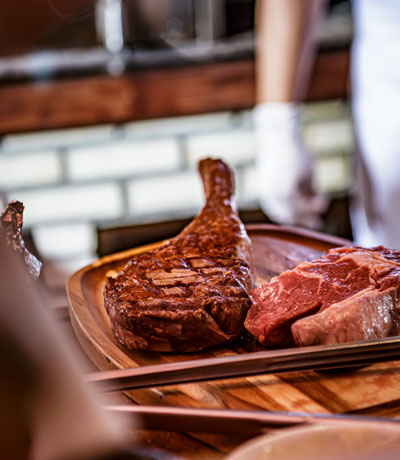 Argentine Cuisine With a Contemporary Twist
Our award-winning steaks are just the start— While this food-focused country is famous for its grass-fed beef grilled over an open woodfire, its culinary scene offers so much more. Our chefs incorporated its top dishes into our menu and accented their flavor with a modern makeover.
From juicy empanadas and sausages to ambrosial cheeses and pastas, our cuisine has it all. Any order from Libertango will make your senses sing and leave you fully satisfied.